Fifth Glorious Mystery
THE CORONATION
---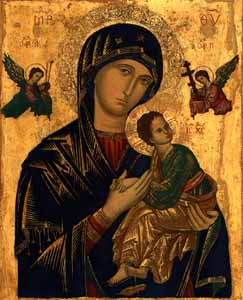 1. The Princess is decked in her chamber with gold-woven robes; in many-colored robes she is led to the King
2. With her virgin companions, her escort, in her train. With joy and gladness they enter the palace of the King.
3. At Your right hand stands the Queen in gold of Ophir.
4. The King arose to meet her, and a throne was set for the King's Mother, and she sat on His right hand.
5. A great sign appeared in heaven: A Woman clothed with the sun, and the moon under her feet, and on her head a crown of twelve stars.
6. The daughters saw her, and declared her most blessed; the queens also, and they praised her.
7. "Who is she that cometh forth as the morning rising, fair as the moon, bright as the sun, terrible as an army set in array?"
8. "Blessed art thou, O Daughter, by the Lord the Most High God, above all women upon the earth.
9. "Thou art the glory of Jerusalem, thou art the joy of Israel, thou art the honour of our people."
10. If we have died with Him, we shall also live with Him; if we endure, we shall also reign with Him.
-Psalm 45:13-15, 10; 3 Kings 2:19 DV; Apocalypse 12:1 DV; Canticle 6:9-10 DV; Judith 13:23; 15:10 DV; 2 Timothy 2:11-12
(Perpetual Help Icon from Redeptorists at Mount St. Alphonsus, Limerick, Ireland.)
| Last Mystery | Return to Rosary Page | Site Index | Home Page |