MIRACULOUSLY-PRODUCED IMAGES OF MARY
---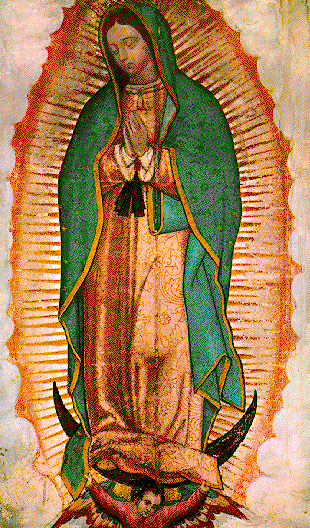 Our Lady of Guadalupe
This first picture is the famous image of Our Lady of Guadalupe. In December 1531, Mary appeared on Tepeyac Hill in Mexico to Blessed Juan Diego, a native Mexican convert to Catholicism. She sent him to his bishop, with the request that a shrine be built there in her honor.
On the last day of the apparitions, God performed a miracle to convince the bishop that the apparition was genuine. Blessed Mother sent Juan Diego to the other side of the hill to collect Castillian roses, which he found blooming there even though they were out of season in December! He took them in his tilma (cloak) to Our Lady, who arranged them with her own hands and then sent him to the bishop.
When Juan Diego came before the bishop, he opened his folded cloak, letting the roses fall to the floor. Suddenly, an image of the Blessed Virgin appeared on the tilma right before the eyes of everyone present! The Bishop was convinced that Mary had appeared to Juan Diego, and the shrine was built on the hill of the apparitions.
The original image can still be viewed in the shrine today. Despite the fact that Blessed Juan Diego's tilma was made of very flimsy material which should have rotted centuries ago, it is still in excellent condition more than four hundred years later!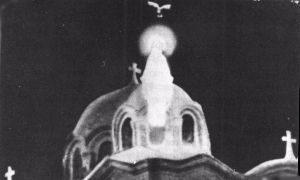 Our Lady of Zeitoun, Egypt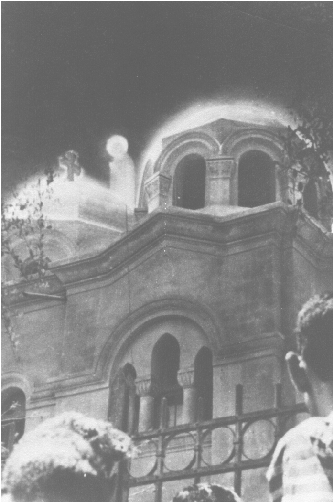 Sorry, I'm not ready yet :-). Thank you for your patience.
---
| Site Index | Home Page |