OUR LADY OF THE MIRACULOUS MEDAL
---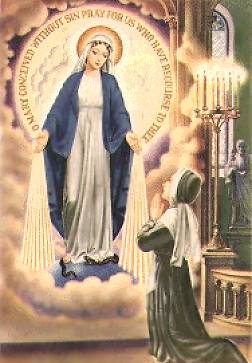 In Paris, France 1830, Catherine Laboure, a 24 year-old novice of the Sisters of Charity had a vision of the Mother of God. Mary told her:
"My child, the good God wishes to charge you with a mission. You will have much to suffer, but you will rise above these sufferings by reflecting that what you do is for the glory of God. You will know what the good God wants. You will be tormented until you have told him who is in charged with directing you. You will be contradicted, but do not fear, you will have grace. Tell with confidence all that passes within you. Tell it with simplicity. Have confidence. Do not be afraid....

"There will be bad times to come. Misfortunes will come crashing down on France. The throne will be toppled. The whole world will be turned upside-down by misfortunes of all kinds . . . But come to the foot of this altar. There, graces will be poured out on all those, small, or great, who ask for them with confidence and fervour. Graces will be poured out especially on those who ask for them....

(She continued with tears in her eyes) "There will be victims [...] There will be victims among the clergy of Paris; Monsignor the Archbishop will die [...] My child, the cross will be held in contempt. It will be thrown to the ground. Blood will flow. Our Saviour's side will be opened anew. The streets will run with blood. Monsignor the Archbishop will be stripped of his vestments ...My child, the whole world will be plunged into gloom."
On 27 November, 1830, Catherine had another apparition. She saw Our Lady holding a gold globe over her heart. Mary also wore rings on her fingers. They were set with gems, some of which emitted rays of light. She said to Catherine:
"This globe that you see represents the whole world, especially France, and each person in particular." (The rays) symbolize the graces I shed upon those who ask me for them. The gems from which rays do not fall are the graces for which souls forget to ask."
Then an oval shaped frame appeared around Our Lady, containing the words "O Mary conceived without sin, pray for us who have recourse to thee". The globe disappeared and she spread out her arms. A voice told Catherine:
"Have a medal struck according to this model. Those who wear it will receive great graces, they should wear it around their neck. Graces will abound for those who wear it with confidence."
When her confessor, Father Aladel, asked Catherine to ask Mary whether any special words should be included on the other side of the medal, Our Lady replied, "The M and the two hearts express enough."

Today the Miraculous Medal is worn by Catholics all over the world. It has taken its place beside the Rosary and Brown Scapular as one of the great Marian Sacramentals of the Church.

(Picture from Our Lady's Gallery.)

| Back: Guadalupe | Next: La Salette | Words of Mary | Site Index | Home Page |