Seventh Sorrow of Mary
JESUS IS LAID IN THE TOMB
---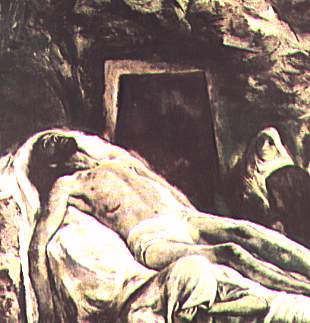 1. Joseph took the body, and wrapped it in a clean linen shroud,

2. Nicodemus also, who had at first come to Jesus by night, came bringing a mixture of myrrh and aloes, about a hundred pounds' weight.

3. They took the body of Jesus, and bound it in linen cloths with the spices, as is the burial custom of the Jews.

4. Now in the place where he was crucified there was a garden, and in the garden a new tomb where no one had ever been laid.

5. So because of the Jewish day of Preparation, as the tomb was close at hand, they laid Jesus there. And Joseph rolled a stone against the door of the tomb.

6. The women who had come with him from Galilee followed, and saw the tomb, and how his body was laid.

7. Then they returned, and prepared spices and ointments. On the sabbath they rested according to the commandment.
-Matthew 27:59; John 19:38-42; Mark 15:46; Luke 27:55-56

(Picture from Jesus Christ: Images, Art and Photographs.)

| Sixth Sorrow | Seven Sorrows Index | Site Index | Home Page |