Features
* Mary Immaculate: Devoted to the Mother of God.

* Favorite Links: Catholic apologetics, SciFi, etc.

* Catholic Apologetics Webring

* My MagMall page

WELCOME TO MY HOME PAGE!
My name is James. I'm in my thirties and live in New York State.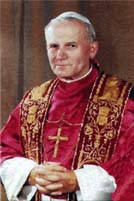 This page is about my two main interests in life: Catholic Apologetics and Star Wars (in that order). The main emphasis will be on Apologetics, since I am studying to be an apologist.
You may have noticed the articles on Marian Apologetics in the first section. Well, I have to give my wife credit for that series; yes, she wrote that. But I hope to put up some of my own stuff soon. And maybe some more of her stuff :-)
In the meantime, I've started a Catholic Apologetics Webring. I noticed that there were a number of rings dedicated to Evangelical Christian Apologetics, and even one for anti-Catholics, but none for Catholic apologists. Since there are lots of great home pages by Catholic apologists, I thought we needed a webring to link them all. If you're one of them, why not check it out?
I hope you like the site. Why not bookmark it, since I will be adding more stuff in the near future.
Email me at jmscott4@catholic.org