LINKS TO MARIAN ART ON THE WEB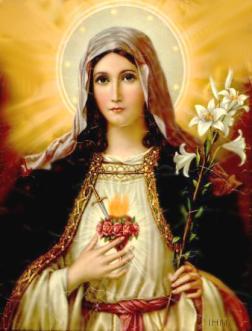 Together, these links contain about three hundred pictures of Mary, many of which can be downloaded free of charge (always check first!)
Catholic Online Marian Art Gallery. Twelve lovely pictures on this page, including a striking one by Joseph Stella.
The Blessed Virgin Mary Art Page. Another twelve pictures here, many depicting Mary's life.
Holy Rosary Page: Pictures Gallery Twelve images of Mary, plus six of Jesus.
The Virgin Archive. Nineteen images here.
Mother of God Icons. Two great collections of Eastern Christian images. They do not say that one can download them, so please ask permission before using these ikons!
Rare Portraits of the Blessed Virgin Mary. More ikons; these are from the Coptic (Egyptian Christian) tradition. Again, ask permission before downloading anything.
The Mantle Art Gallery. Numerous images of Jesus, Mary, Saints and sacramentals.
The "MaryTalk" Picture Gallery. Quite a collection here! Thirty-two images of Mary from around the world which you can download for free!
AlaPadre's Catholic Corner: Bookmarks on Tab I. A long list of Catholic links starting with "I". Scroll down to "Images" and you will find a number of links to individual Marian images on the web. Check out the ones from EWTN's gallery (but please ask permission from EWTN before downloading anything!).
The Catholic Tradition. This site has lots of beautiful Catholic graphics, many of Mary. They also offer to create backgrounds and graphics for Catholic and Christian pages (free of charge - you just have to give them credit with a link and graphic which they provide).
Perpetual Divine Mercy Crusade. Similar to the one above; has many different images of Our Lady, especially in the The Blessed Mother Room and Special Tribute to the Virgin Mary pages.
The Image of Our Lady of Guadalupe. Lots of free images of Our Lady of Guadalupe. Takes a while to load, but offers something for just about everyone.
Our Lady of Mount Carmel Image Collection. Fifty images of Our Lady of Mount Carmel from around the world.
Our Lady's Gallery. You must check out this one: one hundred and thirty Marian pix (at last count) and more added frequently! Lovely Marian wallpaper also available here, and it's all free (though you have to notify the people who maintain that site, and use it in a reverent manner, of course). This collection is incredible!
Nursing Madonna Images.
The oldest-known image of the Mother of God, in the Catacomb of Priscilla in Rome, depicts her nursing the Infant Jesus. Over the centuries many more artists have depicted this precious subject. Ten such images are featured in the Gallery of Breastfeeding Art (out of thirteen pictures total). The second page in this collection features three more images of Mary, out of fourteen total. (The site does not indicate that these pictures are available for personal use, so if you wish to download any of them, ask permission first).
(This page comes from my wife's web site, The Mystical Rose Home Page. I would like to thank her for letting me use it on my site.)
---
| Back | Next | Index | Return to James' Home Page |