Fourth Glorious Mystery
THE ASSUMPTION
---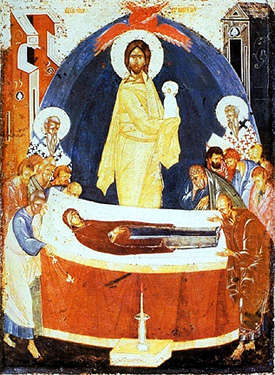 1. Since we believe that Jesus died and rose again, even so, through Jesus, God will bring with Him those who have fallen asleep.
2. Hear, O Daughter, consider, and incline your ear; forget your people and your father's house;
3. And the King will desire your beauty. Since He is your Lord, bow to Him.
4. "Thou art all fair, O My love, and there is not a spot in thee.
5. "Arise, make haste, my love, my dove, my beautiful one, and come. For winter is now past, the rain is over and gone.
6. "The fig tree hath put forth her green figs: the vines in flower yield their sweet smell. Arise, my love, my beautiful one, and come".
7. Who is she that goeth up by the desert, as a pillar of smoke of aromatical spices, of myrrh, and frankincense?
8. Who is this that cometh up from the desert, flowing with delights, leaning upon her Beloved?
9. Arise, O Lord, into Thy resting place: Thou and the Ark, which Thou hast sanctified.
10. Then God's temple in heaven was opened, and the Ark of His covenant was seen within His temple.
-1 Thess 4:14; Psalm 45:10-11; Canticle 4:7; 2:10-11, 13; 3:6, 8:5 DV; Psalm 131:8 DV; Rev 11:19
Icon of the Dormition from Russian Icons page.
| Last Mystery | Next Mystery | Rosary Page | Site Index | Home Page |