Fifth Sorrowful Mystery
THE CRUCIFIXION
---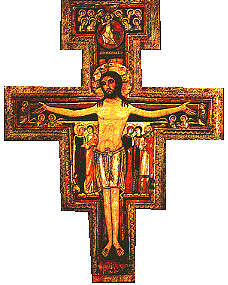 1. One of the criminals who were hanged railed at him, saying, "Are you not the Christ? Save yourself and us!"
2. But the other rebuked him, saying, "Do you not fear God, since you are under the same sentence of condemnation?
3. And we indeed justly; for we are receiving the due reward of our deeds; but this man has done nothing wrong."
4. And he said, "Jesus, remember me when you come into your kingdom." And he said to him, "Truly, I say to you, today you will be with me in Paradise."
5. Standing by the cross of Jesus were his mother, and his mother's sister, Mary the wife of Clopas, and Mary Mag'dalene.
6. When Jesus saw his mother, and the disciple whom he loved standing near, he said to his mother, "Woman, behold, your son!"
7. Then he said to the disciple, "Behold, your mother!" And from that hour the disciple took her to his own home.
8. And at the ninth hour Jesus cried with a loud voice, "E'lo-i, E'lo-i, la'ma sabach-tha'ni?" which means, "My God, my God, why hast thou forsaken me?"
9. Then Jesus, crying with a loud voice, said, "Father, into thy hands I commit my spirit!"
10. And having said this he breathed his last.
-Luke 23:39-43; John 19:25-27; Mark 15:34; Luke 23:46
San Damiano Cross from Franciscan Page. Used with permission.
| Last Mystery | Next: The Glorious Mysteries | Rosary Page | Site Index | Home Page |